Welcome to the thoughts, news and insights of Air Business.
tuesday, 19 february, 2019
Air Business remains committed to tackling the UK's Literacy Crisis
Air Business, the UK's market-leader in global mail, fulfilment, distribution and subscription management continues its commitment to help drive up UK literacy levels for another year by signing the National Literacy Forum's Vision for Literacy Business Pledge 2019.
Based on a survey, carried out by the National Literacy Trust in December 2018, the more books a child owns, the more likely they are to do well at school and be happy with their lives. However, The National Literacy Trust found that 9% of children say that they don't own or have a book of their own at home. This statistic means that 1 in 11 children and young people in the UK miss the benefits of having their own books.
Air Business has been distributing books to children aged 0 Р5, on behalf of Dolly Parton's Imagination Library UK, since 2010 and demonstrated its commitment to the charity's mission by enrolling its eligible employees too. Since partnering with Air Business, the number of books distributed in the UK by the charity has gone from 2,500 to 30,000 and Air Business has sent out over one million books for the Imagination Library. Currently, Air Business is working with its parent company, An Post, to help Dolly's Imagination Library launch in Ireland so that children there can benefit from the books too.
By signing the Vision for Literacy Business Pledge, Air Business promises to encourage its employees to take part in internal fundraising and spread greater awareness of the campaign amongst the UK publishing market.
Adam Sherman, Air Business Group Managing Director, comments:
'ÄúWe are excited to be signing the National Literacy Forum'Äôs Vision for Literacy Business Pledge for the third year running and understand the importance of raising awareness of the crisis. Air Business as a Group has served the publishing industry for over 45 years and like our clients, we are passionate about people engaging with the written word.'ÄĚ
monday, 4 february, 2019
Cracking the art of e-commerce: Stephensons Online Ltd
Imagine. One minute you are sitting in your front room selling your late grandmother's old personal belongings on eBay. A few years later, you are running a multi-million pound e-commerce business, selling to consumers in almost every country in the world. Sounds hard to believe perhaps? Maybe. However, this is exactly the story of Barry and Katy Tong, owners of Stephensons Online LTD.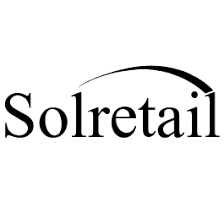 The couple set up their Stephensons Online eBay account at the beginning of 2011 after wanting a meaningful way to pass on their grandmother's things. During this process, Barry and Katy realised the huge revenue potential of online selling. After all their grandmother's items had sold, the couple began re-selling items from car boot sales and, later, wholesalers on eBay. Just six months after setting out, Stephensons Online LTD became a sole trader. After launching on Amazon UK, the company then set up SolRetail. As a third party e-commerce platform management company, SolRetail works directly with health and beauty brands; looking after everything from their marketing to order fulfilment, stock management to customer service.
Working closely with the company as its UK and international distribution supplier, Air Business has built a strong relationship with Managing Director Barry, Katy and their now 16-strong team.
We sat down with Barry to talk about his rapid business growth, managing consumer expectations and how he is finding working with Air Business.
The story of your business growth is very impressive. What would you say has been the major factor in determining your success?
Persistence! We started off as eBay sellers, selling my grandmother's old belongings. After we'd sold her things, we started selling our own unwanted items on eBay. We sold anything that people would normally put into a skip and get rid of! We then moved into re-selling items we bought from car boot sales and eventually went on to sell for brands. We've never taken out a loan; we've simply regurgitated the money we've earned at each step of the process back into the business to purchase new stock and drive more sales. In the first month, we turned over £1,000. We doubled this in our second month and, after repeating the process of selling and re-investing, were turning over £150,000 by 2012 and £750,000 by 2013. Our current turnover is £3.5million with the next goal now £10million.
Tell us a bit more about how your business operates and how you work with brands.
We work with about 65 brands across the world. These range from new start-ups to high street brands, predominantly health and beauty labels.
Firstly, we manage the online selling platforms on behalf of other brands. So, if you owned a brand and wanted help in managing the selling of this on platforms like eBay and Amazon then we are the people you would come to. We run everything for these, from sales and marketing right through to finance, all from our UK office.
Secondly, we also provide the full platform management for brands we have created ourselves or become investors in. For example, we fully manage the online platform sales of the Natural Birthing Company, which we have been a shareholder of since 2016, and which is also sold in 400 Boots stores across the UK. Dear Barber is another brand we are investors in, sold in 35 countries worldwide and, again, fully managed by ourselves. We have our own brands too. We launched our new men's brand, Raw Supremo, and we also have some female brands coming out next year. We're really driving the brand side of our business as well as managing the brands of others.
You have a diverse range of clients. How do you manage the expectations of your B2B clients and also those of the end consumer?
First of all, we are not just a retailer or a wholesaler but a business partner to all the brands we work with. We act as an extension of their team; providing them with business support and resources to drive their sales and brand awareness forward. Every brand we work with is different so we provide each one with unique direction and advice. Regardless of the differences between our B2B customers though, the key expectations of the end consumers remain constant. Their priority is quality and timed delivery; getting everything that they want delivered, to their door, exactly when they expect this.
Speaking of deliveries, Air Business handles your domestic and international deliveries on a variety of services. How have you found working with us?
Well I'Äôll start by saying that one of the greatest things is Air Business'Äô personal touch. We have used different suppliers in the past and my experience was often feeling that we were 'Äėjust a number 'Äô. But this isn'Äôt the case with Air Business. You do all you can within your parameters to assist us in getting the best price and the best delivery to fit each brand we sell, in order to meet needs of the end-customers.
Through Air Business, we've been able to choose specific delivery options for each of the brands we manage. When we have a delivery that we need to get to a particularly challenging corner of the world or if a certain brand requires a service for their consumers that we don't offer already then we can ring our Account Managers, Harry and Tim, at Air Business and they'll come in, sit down and discuss things through with us to come up with the best solutions.
Do you find delivery options to be an important factor in influencing the end-consumer's decision to complete an online purchase?
Most definitely Рespecially in the US and UK where consumers seem to want things within an hour! But consumers in different parts of the world have different expectations. So, again, it's about matching the delivery service to the requirements of each specific group of consumers to ensure that they are getting what they expect. Air Business is therefore the ideal distribution partner for us, offering multiple options from economy solutions right up to the fully tracked service.
How did you find the integration of Air Business' web shipping portal, ProShipper, with your online platforms?
Really good. A team from Air Business came in to us to conduct the training and implementation programme. They took care of everything and were always there, along every step of the way, to support us. It was basically a flawless process for us 'Äď we didn'Äôt have to get involved with it, which I liked!
Have you experienced a reduction in customer service enquiries since partnering with us?
Yes, certainly. Firstly, the number of return orders we receive has reduced. Secondly, since working with Air Business, we have seen our customer interactions concerning issues like non-deliveries and late deliveries decrease with every month that goes by. We sit down and scrutinise these figures with the Air Business team on a three-monthly basis and then make plans to create even further future improvements so that we are constantly moving forward.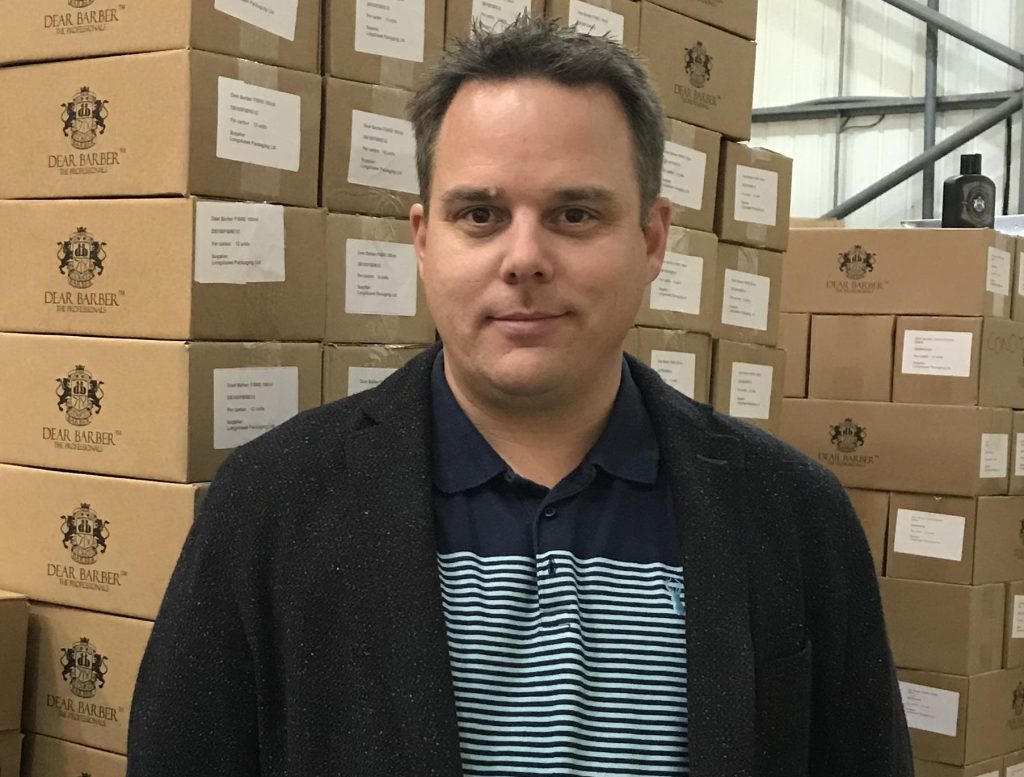 wednesday, 23 january, 2019
New Beginnings for Johnson's GT4 career
Until now our Air Business' sponsored GT4 racing team was made up of the duo Graham Johnson and Mike Robinson from UKI Media and Events. But Graham Johnson has now teamed up with McLaren for the 2019 season and will be helping mentor one of McLaren's young professional development drivers, 24 year old Michael O'Brien. Working with McLaren, Graham and Michael will race as a new team with Balfe Motorsport in this year's British GT4 competition.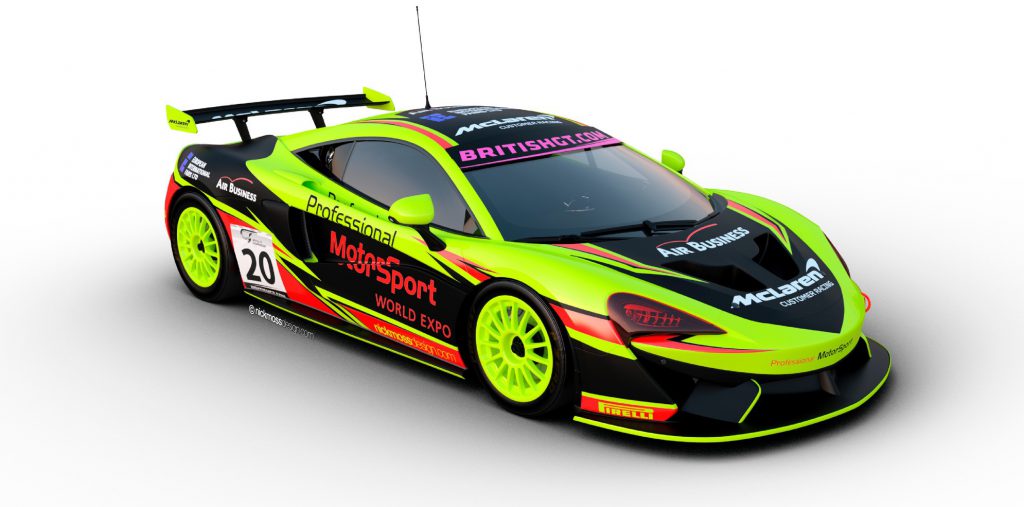 'ÄúWhat McLaren are doing,'ÄĚ Graham explains, 'Äúis putting me – a wiser and older head with lots of experience – with Michael, who is unquestionably very quick, in the hope that his speed and my experience will combine to result in a great deal of success.'ÄĚ
Having raced with fellow amateur driver Mike Robinson for four years, Graham explains the challenges this new pairing is set to bring. 'ÄúMichael is 5ft 7 and I'Äôm 6ft 2. At 6ft, my old teammate Mike was almost the same height as me so we just sat in the same position in the car. However, with Michael being much shorter, we may have to make some interesting compromises to get comfortable! I'Äôve never shared a car with anyone other than Mike so it will be a really new experience for me racing with somebody different who has been professionally appointed by McLaren and who is in his second season of professional motor racing. As a non-professional, I spend most of the off-season out of the car and Mike Robinson was the exactly the same. But I'Äôll now be racing alongside somebody who basically lives in the car 'Äď that will be interesting!'ÄĚ
And aside from the team itself, the racing car will have a fresh new twist too! 'ÄúThe new McLaren is luminous so they'Äôll be no hiding for us this season! And we'Äôve got a number of upgrades coming too, so we'Äôre hoping the car will be as competitive as ever.'ÄĚ
Although this year'Äôs season does not kick off until late April, Graham has already ramped up his training regime. 'ÄúI am trying to do some cardio in the gym every day now. As a middle-aged driver, weight is the enemy. If you'Äôre something like 15-20kg heavier than your teammate then you will, by definition, lose around 3 or 4 sevenths of a second per lap. Michael is probably about 30kg lighter than me which is a huge difference so I will have to be very disciplined in keeping the weight off!'ÄĚ
Air Business is proud to be sponsoring the new pair as they take on the new season and will be backing them at every step of their journey. Make sure you follow our social media for all the latest news and pictures of their brand new luminous McLaren!
thursday, 17 january, 2019
PPA selects Air Business as Strategic Partner for the 10th consecutive year
Air Business, the UK's market-leader in global mail, fulfilment, distribution and subscription management confirms its loyalty to the UK publishing industry as it is selected as Strategic Partner of the Professional Publishers Association (PPA) for the 10th consecutive year.
The renewal of this long-standing partnership with the PPA demonstrates Air Business' unwavering loyalty to the publishing industry and shows it is keeping the publishing sector at its core.
Air Business has proactively invested in the growth of the publishing sector by evolving their subscription service model and investing in new technologies, as well as investing in a new Head Office and main distribution centre in Hatfield to enable long-term support of their clients.
The 10th year of the partnership will see Air Business as key Strategic Partner of the PPA Festival and PPA Awards, which this year undergo exciting changes to their content and format, affirming its support and dedication to the growth of this sector. Air Business will once again be supporting the New Talent Awards in March and the Independent Publisher Awards in November.
Barry McIlheney, CEO of the PPA, commented:
'ÄúI am delighted to be entering into our 10th year with Adam Sherman and his team at Air Business, their role as Strategic Partner is extremely valued. Over the past nine years of our partnership, they have demonstrated great passion for the industry and are always proactively investing in and supporting the growth of the publishing sector. As publishers seek to grow their presence in new sectors, Air Business has ensured they meet their evolving needs.'ÄĚ
Adam Sherman, Air Business' Group Managing Director, adds:
'ÄúA lot has changed in publishing since we first became Strategic Partner in 2010 and we are excited to be supporting publishers as they move into new markets and of course we are thrilled to be continuing our strong partnership with Barry and his team at the PPA. Over the past year the Group has created some very positive changes including moving our Head Office and main distribution centre to Hatfield and continuing to invest in and develop our subscriptions service model and systems. What has not changed is our passion and loyalty for the publishing industry, which stays at the heart of everything we do at Air Business.'ÄĚ

thursday, 13 december, 2018
Air Business introduces its new Customer Experience Director
Air Business, the UK's market-leader in global mail, fulfilment, distribution and subscription management, has appointed Lenka Booker as its new Customer Experience Director to ensure customers remain at the heart of all processes and future planning.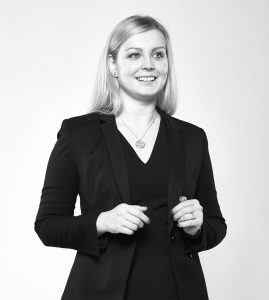 As part of this brand new role for the company, Lenka will be responsible for directing Air Business' Client Relationship Group and Data Bureau departments as well as all the internal processes and customer touchpoints within the business. Lenka will thoroughly review and oversee the implementation of improvements and changes to Air Business' service chain to ensure that its customers receive the best experience possible. Lenka will report directly into the Group's Managing Director, Adam Sherman, with close support from Philip Ions, the Group Finance Director.
Through managing the move of Air Business' Head Office and main distribution centre earlier this year, Lenka acquired an extensive knowledge of the company's processes and customer touchpoints, designing its new building around these. Having worked at Air Business for a total of 10 years, Lenka also has first-hand experience of working in the company's Customer Relationship Group department; serving and liaising with its customers on a daily basis at the beginning of her career. From her previous experience of setting up the company's Marketing department and serving as its Head of Marketing and Strategic Planning, Lenka's customer-centric focus also made her the ideal candidate for the role.
To support Lenka, Kevin Lamb has been appointed to the other new role of Head of Client Relations and Insights where he will be responsible for heading up Air Business' Client Relationship Group. Kevin joined the company in 2016, with over 25 years' worth of experience working in a variety of production, subscription and postal distribution roles at TI Media. As a regular member of various PPA industry groups over the years, Kevin has an extensive knowledge of the UK publishing market.
Alongside Kevin, Lenka will also be supported by Air Business' Data Bureau Manager, Sarah Melton. As a long-standing member of Air Business, Sarah has over 10 years' worth of experience in leading its Data Bureau department; devising and implementing bespoke data management solutions for the company's clients.
Lenka Booker, Customer Experience Director, comments:
'ÄúAs the publishing landscape continues to change and evolve I want to ensure that there is a perfect synergy between Air Business and the future needs of our customers so we continue to deliver to the very highest standards. I am really looking forward to meeting our customers to discuss their challenges and requirements.'ÄĚ
Adam Sherman, Group Managing Director, comments:
'ÄúThroughout her career at Air Business, Lenka has consistently demonstrated her strong ability to deliver results. ¬†Lenka has played an instrumental part in the company'Äôs brand and strategic direction to date. I believe she will bring great experience and a customer-centric insight to this new role, which is intrinsically about keeping the customer at the forefront of everything we do.'ÄĚ
wednesday, 28 november, 2018
Air Business wins international magazine distribution deal for Immediate Media Co
Air Business, the global distribution, fulfilment and subscriptions management company, has won the contract to provide international distribution for Immediate Media Co's market-leading special interest magazine titles.
Radio Times, Top Gear and BBC Good Food are among the 37 of Immediate's titles being sent worldwide. Following a comprehensive process of selection, Immediate concluded that Air Business is the best partner for handling its international distribution.
The first magazine distribution went live just over a week after the contract was awarded. This was followed by the seamless transfer of all Immediate's titles to Air Business from its previous suppliers in under one month.
Air Business devised a bespoke operational process for each of Immediate's individual titles to meet stringent service level agreements. Radio Times, for example, required a swift turnaround process in order to reach expatriate markets in countries such as France and Switzerland on time. Air Business' tailored solution has enabled the magazine to be collected from its printers, fulfilled and mailed within a short nine-hour window.
Helen Ward, Subscriptions Director for Immediate, comments:
'ÄúOur transition to Air Business was noticeably smooth and we are very pleased with the service. We are incredibly proud of our magazine portfolio so are delighted to be able to get our titles to our subscribers not just on time but actually ahead of their expectations. I look forward to developing our partnership with Air Business into the future.'ÄĚ
Adam Sherman, Air Business Group Managing Director, comments:
'ÄúBy working closely with Immediate and using our innovative processes and routing systems we have been able to deliver instant improvements for the publisher. The timescales were certainly challenging, but a robust transition plan and detailed data testing meant that everything has gone very smoothly.'ÄĚ

ENDS
monday, 19 november, 2018
Last Posting Dates and Air Business Festive Operational Hours
Please see the last recommended posting dates for international services and Air Business Operational Hours for this year's Festive Season.
Please note, there is a limited pallet collection service on the 24th December to 31st December, local collections will be made up to midday, with items collected being despatched soon after.
Excluding the 25th and 26th, despatches will be made early from the 24th through to 31st December to ensure all items/pallets reach suppliers on schedule.
If you require any more information during this period, please advise your Client Relationship Executive, on 01727 890 620, who will be able to assist you.
Click here to download Last Posting Dates and Air Business Festive Operational Hours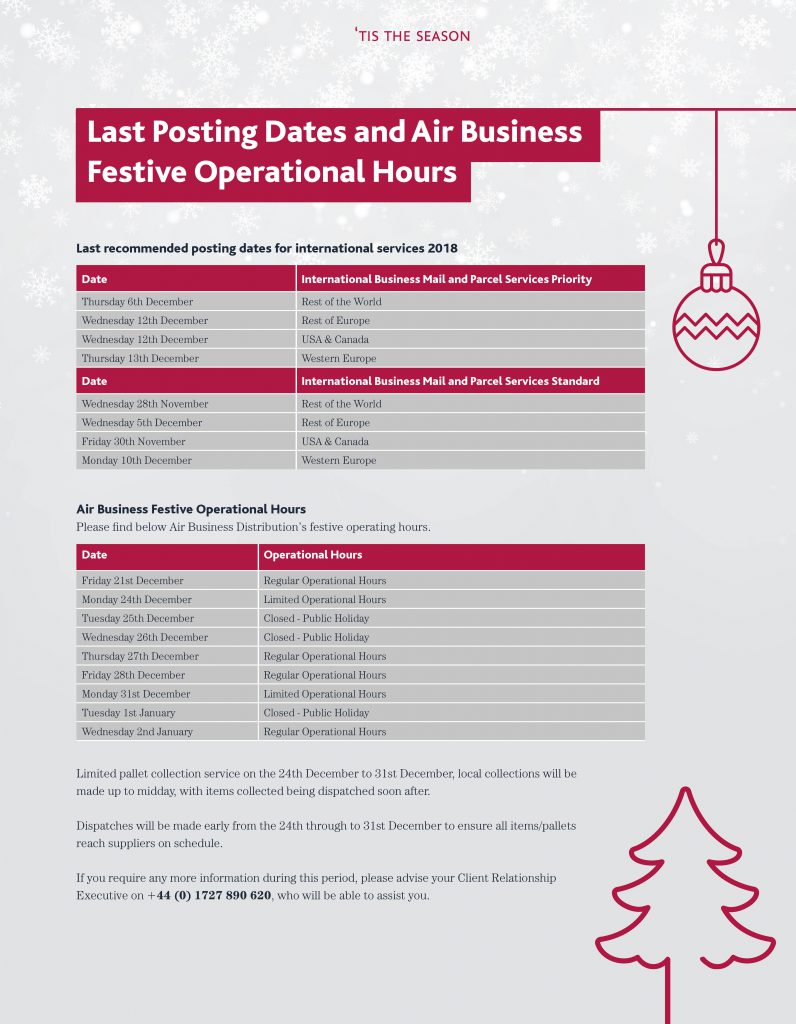 thursday, 8 november, 2018
Air Business Partners With Illustrated London News
Air Business, who supports the publishing industry with a unique end-to-end service spanning fulfilment, distribution and subscriptions management, has joined forces with Illustrated London News, the publisher behind the first illustrated newspaper, to ensure timely domestic and international delivery of their printed matter.
Known for publishing the first illustrated newspaper in 1842, and later the first colour newspaper in 1855, the Illustrated London News brand is well versed in the art of story-telling. Currently telling the story for numerous heritage brands, they've teamed up with Air Business to boost the delivery services of their members-only publication.
David Gyseman, Production & Distribution Director, Illustrated London News comments:
'ÄúWe'Äôre really excited to be working with Air Business as we'Äôve always had a great impression of their service and people. It'Äôs really important for us to have a pro-active Account Manager, who'Äôs always accessible, teamed with the option of daily contact which we get from the client relationship team.'ÄĚ
Adam Sherman, Group Managing Director, Air Business adds:
'ÄúWe'Äôre really pleased to welcome on¬†board such an iconic and pioneering brand to our client list. Having a history of 175 years of storytelling, Illustrated London News are constantly evolving. They are exactly the type of publisher Air Business are looking to support long-term as the publishing industry continues to adapt to changing times.'ÄĚ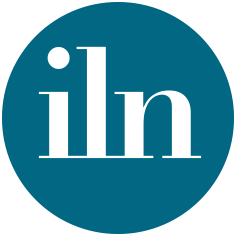 tuesday, 9 october, 2018
Top tips for optimising your E-commerce winter peak season
It's the time of the year when e-tailers are gearing up for their busiest time of the year. With Black Friday and Cyber Monday on the horizon, not to mention the Christmas shopping rush, we chatted to Harry Wheelhouse, Business Development Manager here at Air Business. He gave us his top tips for optimising E-commerce during the peak winter season.
Check your web hosting package
Can your existing web hosting platform cater for all those extra visitors and maintain a quick response? If customers have to wait for pages to load, for more than two seconds, they are far more likely to abandon their shopping baskets so checking the performance of your website is a great place to start.
Review and improve your checkout process
Go through and test your checkout process 'Äď are there any amendments or improvements you can make to increase the ease, speed and available delivery options during checkout? An improved checkout process will help to reduce basket abandonment and maximise sales.
Keep your delivery options open
Whilst most parcel carriers offer similar delivery services, they all have their own unique selling points. At this critical point of the year it's best not to keep all your eggs in one basket by only using a single carrier partner. By working with multiple carriers your customers will have access to the best delivery options available. Offering your customers multi-carrier delivery options will also help reduce basket abandonment due to price or timing concerns.
Check delivery promises and revise if necessary
It is always best practice to under promise and over deliver during the winter peak season. It is really important to check last posting dates, for each of your parcel carrier partners, and work to these including a small contingency margin for processing.
Keep your customers in the loop
By working with a delivery partner who can integrate with your orders and send your customers pro-active email and SMS updates, on their shipments, you're likely to receive less delivery enquiries and have more happy and informed customers.
Consider upgrading shipping services at no extra cost to your customers (where feasible to do so)
Consider upgrading untracked shipments to tracked services 'Äď this may be a big help to your customer service team over this busy period as consumers can check the progress of their parcels without having to get in touch. Over the peak season this will, in general, improve customer feedback, promote brand loyalty and improve online rankings all of which will help to drive traffic back to your site during and after peak.
Use suitable high quality packaging materials
Using the cheapest available packaging is often a false economy. To ensure your goods arrive in perfect condition, use packaging that reflects the size and nature of the items being sent with suitable void fill. The cost of orders arriving damaged, the subsequent returns and resending process, teamed with poor customer service implications is likely to be considerably more costly than investment in better packaging.
Prep for post-peak
A good way to encourage post-peak season sales may be to include incentives with the outbound orders during the winter peak. Both email and paper-based campaigns can help to increase sales in quieter months. Another option could be to upgrade delivery services for returning, loyal, customers free of charge and make them aware of this value-added extra.
Ask an expert…
Don'Äôt struggle through the winter peak season 'Äėout in the cold'Äô, at Air Business we have the experience and technology to integrate with your orders and ensure your items are delivered securely in a timely manner. As soon as we know all of the international 'Äėlast posting dates'Äô before Christmas we'Äôll be posting them on our Service Update page and emailing our contacts. To sign up for our weekly Service Alert emails please click the 'Äėsubscribe'Äô button in the top right hand corner of the Service Update page. You can read more about our E-commerce services here.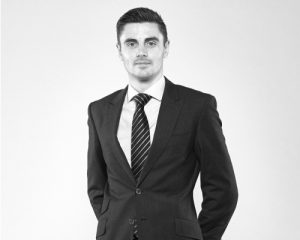 Get in touch and see how Air Business can take your business from A to Beyond, during and beyond the winter peak. Call us on 01727 890600 or email hello@airbusiness.com.
monday, 24 september, 2018
Air Business Moves to The Beacon
Air Business' new Head Office and main distribution centre, based at Hatfield Business Park in Hertfordshire, is now officially open for business.
The name of the new building, The Beacon, is in honour of the site's local history. Previously part of Hatfield Aerodrome, the premises used to be the home of the Hatfield Beacon, which was used to alert pilots testing planes on the airfield during World War II.
Air Business, in partnership with Arlington who own the Business Park and SEC Interiors, has been working around the clock over the past few months in order to ensure that the purpose-built site was live and ready for all staff to relocate to by Monday 17th September. The move from Air Business' old St Albans premises Рjust five minutes down the road Рtook place in stages. Operations staff were the last part of the business to transfer, following a tightly run schedule, to ensure no disruption to customers.
Tuesday 18th September saw Adam Sherman, Air Business Group Managing Director, officially welcome all employees to The Beacon during a welcome breakfast. Adam commented:
'ÄúIt'Äôs been a lot of hard work and a long journey of over two years of planning and execution but I'Äôm so proud to welcome everyone to our new home, The Beacon. This building marks the start of a new chapter for Air Business and will help us to become more efficient and collaborative than ever before; keeping our customer'Äôs needs and delivering them an exceptional service at the core of everything we do here.'ÄĚ
Lenka Booker, Customer Experience Director, who has lead this ambitious project, added:
'ÄúI am so proud of what we'Äôve all achieved and it'Äôs so rewarding to see everyone excited about The Beacon. Throughout the build, we have kept our core values in mind, one of which is accessibility. We really look forward to welcoming all our customers to visit the new Head Office in the near future.'ÄĚ
The new Head Office will continue to act as the main hub for Air Business' distribution services for clients. Meanwhile, Air Business Subscriptions, in Haywards Heath, continues to drive the subscriptions and digital services offering for the Air Business Group.