thursday, 11 august, 2022
Air Business selected as new home for IMX's prestigious client base
Air Business, the award-winning global distribution, fulfilment and subscriptions management company, has announced it will be providing a new home for the key client base of IMX, who specialise in e-commerce fulfilment and distribution.
Following a strategic review of IMX's UK operation, and the recent acquisition of IMX France by bpost group, IMX directors made the decision to rehome their customers with Air Business.
Adam Sherman, CEO at Air Business, commented, "I am delighted that Air Business has been chosen by IMX as the preferred destination for their key clients, entrusted to maintain delivery of a first-class service. We have identified e-commerce as an area of huge potential growth so I am particularly excited by the arrival of key IMX staff at Air Business, whose knowledge, experience and skills will strengthen both our team and the range of services we offer."
The transition from IMX to Air Business will be phased over this summer and is being overseen by the respective transition teams.
Nicholas Street, CEO of IMX, added, "After an extensive review of the marketplace, taking into consideration services, experience and culture, I am confident that Air Business is the perfect home for these prestigious accounts, and that together we will deliver the high level of service that IMX has become renowned for. Having worked with Air Business for a number of years, forging a strong relationship with Adam and the senior team, I am delighted to provide this continuity of service to our clients."
Nicholas joins Air Business as e-commerce Fulfilment & Distribution Director and is chairman of the Mail Carriers Association (MCA), a membership organisation representing postal operators, wholesale operators and private operators in the mailing industry, bringing with him considerable knowledge, influence and expertise in this field.
The IMX clients such as Harley-Davidson Owners Group and Jeremy Clarkson's Diddly Squat Farm will be joining a portfolio of some of Europe's leading businesses.  These include Future Publishing, Immediate Media, Haymarket, Elsevier, Informa Group, Conde Nast, Debrett's, Specsavers, Sweaty Betty and The Book Depository, to name a few.
Note – As a wholly-owned subsidiary of An Post, the National Post Office of Ireland, Air Business enjoys the best of both worlds; having the freedom to operate independently whilst also benefiting from the backing and support of a national post office.
thursday, 4 august, 2022
Air Business builds for the future with continued investment in Senior Management
Air Business, the award-winning global distribution, fulfilment and subscriptions management company, has announced several changes to its senior management team as it continues to focus on delivering seamless customer experience and infrastructure to its diverse client base.
Adam Sherman, Air Business Group Chief Executive Officer, said: "Air Business is absolutely committed to providing the highest level of customer service, technology and infrastructure to our clients. I am pleased to announce several appointments that build on our existing strengths in these areas."
Paul Hatch, who joined Air Business in 2021 with a brief to build world-class customer experience at Air Business Subscriptions, will take on a newly created role of Group Customer Director, responsible for ensuring seamless customer experience across the whole Air Business Group. Paul has extensive experience in subscriptions management, marketing and customer experience gained working both client-side, notably at TI Media, and within service providers.
Paul will be supported by Kevin Lamb, who moves into a new role as Head of Client Relations. Kevin has been with Air Business since January 2016, having spent over 25 years in a variety of production, subscription and postal distribution roles at TI Media. As a regular member of different PPA industry groups over the years, Kevin brings extensive knowledge and representation of the UK publishing and postal markets.
Adam Sherman added: "Paul's fantastic experience, both client-side and as a supplier, strengthens our ability to continue enhancing our customer experience offering, reinforcing its reputation as one of the best in the industry. Kevin's experience and depth of knowledge of the publishing sector is an invaluable resource for the wider business, one that I know many of our clients value immensely."
In other appointments, Andy Haylar has joined Air Business as Group IT Director, whilst Lenka Booker has taken on a new role as Strategy and Transformation Director.
Andy, who specialises in creating technical customer solutions, commented: "I have been tasked with providing the IT infrastructure to take the company to the next level through innovation and adaptation." Andy has over 20 years of experience in technology leadership roles in a variety of industries, from postal, logistics and parcels to security and engineering. His priorities will include maintaining the highest standards for cyber security and GDPR, in addition to payment card processing, for which Air Business holds the prestigious PCI-DSS Level 1 compliance rating.
Lenka is now responsible for driving strategic growth for the business through acquisitions, whilst developing new products and services in response to the evolution of the market and the requirements of clients. Lenka said: "Our focus on digital transformation will enable our teams to deliver world-class customer experience and provide clients with invaluable insights through real-time business intelligence."
tuesday, 7 june, 2022
Air Business nominated for PPA Industry Partner of the Year
The nomination is for our work on Carbon footprint reporting and supporting our customers with their sustainability goals.
Industry Partner of the Year award recognises the suppliers to our industry who have really gone the extra mile in their partnerships with professional publishers.
Our entry has to clearly demonstrate:
– Evidence of service levels & a genuine partnership
– Meeting or exceeding client objectives and expectations
– Innovation and creativity in finding solutions
– Working towards sustainability alternatives and best working practices
Air Business also sponsors the 'Media Brand of the Year (Consumer Media)' award, and we look forward to congratulating the winner.
The Award ceremony is on Wednesday June 22 in London, and you can view the full shortlist on the Awards website.
tuesday, 17 may, 2022
Come see us at the PPA Festival!
We are delighted to sponsor the PPA Festival on the 19th May, with an unmissable agenda of keynotes, presentations, discussions, roundtables and more, the Festival is the premier event for the UK publishing sector.
The team will be on hand all day to help with any distribution and subscription enquiries. We look forward to seeing you there!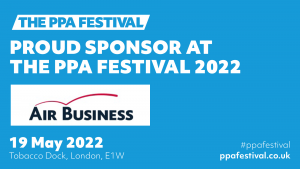 thursday, 31 march, 2022
Air Business wins international magazine distribution for Immediate Media
Air Business, the award-winning global distribution, fulfilment and subscriptions management company, has won the contract to provide international distribution for Immediate Media Co's market-leading magazine titles.
Following a competitive tendering exercise, Immediate has once again selected Air Business based on both physical and customer service delivery.
Jess Burney, Managing Director, Direct Marketing and Business Development for Immediate, said: "Getting our magazines to our subscribers quickly and reliably is of paramount importance, and Air Business's postal solutions will allow us to get them into the hands of our readers on time and in great condition."
Adam Sherman, Air Business Group Chief Executive Officer, added: "We are delighted to continue to be handling Immediate's high-profile magazines. I'm grateful to Immediate for the opportunity to work with them, giving their valued readers the best possible delivery experience."
Air Business has devised bespoke operational processes for each of Immediate's individual titles to meet stringent service level agreements. Radio Times, for example, requires a swift turnaround process, Air Business's tailored solution enables the magazine to be collected from its printers, fulfilled and mailed within a short, nine-hour window.
tuesday, 22 february, 2022
We're in the PPG!
Every year, InPublishing magazine releases the Publishing Partners Guide to the leading suppliers in the industry.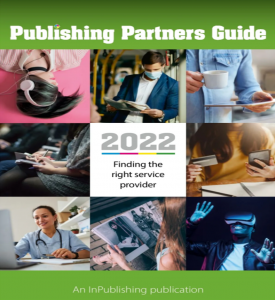 It's designed to help publishing professionals find the right service providers for their needs, and is a useful resource for anyone in the sector.
Air Business is once again listed, with a detailed overview of our service offerings.
tuesday, 18 january, 2022
Client Survey Success for CRG
Our Client Relationship Team recently sent out a satisfaction survey to our customers – and the results are in, with an average score of 9 out of 10!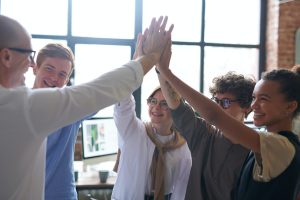 Customers were asked to anonymously rate the team on a scale of 1 to 10 against a series of questions, including "How easy it is for you to make contact with the team", "How would you rate our response and resolution times" and "To what extent do you feel the team resolves your queries competently".
It's a great result for the CRG team, highlighting the high levels of service they provide to clients.
Well done to everyone in the team!
saturday, 1 january, 2022
Happy New Year from Air Business!
Happy New Year to all our customers, partners, colleagues and friends!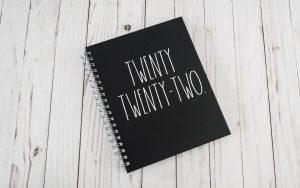 We hope 2022 brings health and happiness, and look forward to working with you to make this year the most successful.
tuesday, 21 december, 2021
Wishing health and happiness to you and your families!
Whilst we can't celebrate the festivities with you this year, we send you our very best wishes for a safe and happy holiday season.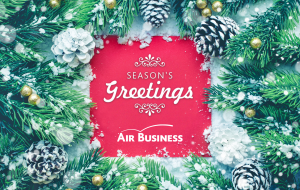 I'm very proud to say we haven't lost a day's work due to the pandemic, and have continued to provide a first-class service to you and your customers and members.
Rest assured we're taking extensive steps to keep our operations open, including weekly testing for staff, regular deep cleaning and compulsory mask wearing.
We look forward to continuing working with you and are hopeful for a bright, successful New Year.
Thank you, and stay safe.
All our very best,
Adam and all the team at Air Business
wednesday, 1 december, 2021
EU Customs VAT clampdown on subscription mail
Italian Customs are beginning to clampdown on items that do not comply with VAT rules. Air Business has worked with the PPA on an article on why it is likely that similar clampdowns could occur in other EU nations, and why publishers should take action to comply in order to prevent serious delays.
In July, the VAT exemption for the importation of goods with a value of €22 or less into EU member states was removed, meaning all goods imported into the EU are subject to VAT. Although magazines are zero-rated for VAT purposes in the UK, most EU countries operate a reduced or full rate as there is no universal exemption.
The PPA has produced a Guidance Document on the changes, which explains the new regime and possible courses of action publishers can take in greater detail. You can access the Guidance Document by clicking here.
As PPA previously advised, if publishers and sellers do not take action it is likely that subscriptions will come into the EU on a Delivered Duty Unpaid (DDU) basis – means the customer pays VAT and administration fees in order for the purchase to be released to them.
Italian Customs are now clamping down on non-compliant items, which is leading to delays in Italy. Poste Italiane is conducting thorough checks, and demanding proof of clearance, of items originating from outside the EU – including magazines and periodicals. This has also occurred in Sweden and Belgium. There is a possibility that similar clampdowns could occur in other EU countries, creating considerable disruption across multiple destinations.
These clamp downs serve as a reminder that it is imperative for publishers to work towards becoming compliant to avoid precisely these sorts of issues: it is now inevitable that compliant mail will have faster transit times.
PPA Strategic Partner Air Business, a market-leader in global mail, fulfilment, distribution and subscription management, said: "The clampdown of VAT and customs compliance in Italy is not unexpected, and supports our belief it would be unwise to gamble on whether the rules would be strictly applied or not. We have always believed it was a case of 'when', not 'if', and evidence suggests other countries are following behind – there are reports in other EU countries of subscribers being asked for local taxes before their magazine is delivered."
To mitigate the risk of serious delays to mailings to the EU, we encourage publishers to fast-track their processes towards compliance, and we would be happy to discuss any concerns or solutions with PPA members – please contact Rob Barham at Robert.Barham@airbusiness.com, or the PPA's Public Affairs Executive sebastian.cuttill@ppa.co.uk, for more information.