Welcome to the thoughts, news and insights of Air Business.
friday, 20 november, 2020
Air Business wins Industry Partner of the Year
Air Business has been awarded the coveted "Industry Partner of the Year" in the PPA Independent Publishers Awards (IPN) 2020.
Sally Hampton, DC Thomson, IPN Judge: "We loved Air Business' commitment to helping Independent Publishers meet the challenges they face while embodying an ethical approach to business. In particular, their approach to Covid-19 challenges showed a willingness to go the extra mile to help their customers."
The PPA summarised the judges' comments: "They show strong communication and a nimble approach, switching transportation to get the most reliable service and good deals. The growth figures are a testament to strong performance in more 'normal' times."
Adam Sherman, Air Business CEO, said: "I am so proud that Air Business has been recognised as the PPA Industry Partner of the Year. This is a testimony to our great team at Air Business, not a single day of service has been missed across the whole business during Covid. Thank you to the judges and a massive thank you to all our customers for their ongoing support and understanding as we have all tried to navigate through this challenging year."
Air Business is a market-leader in global mail, fulfilment, distribution and subscription management. With over 45 years of experience in their field, Air Business have set themselves apart from the competition. As strategic partner of the Professional Publishers' Association (PPA) for over 10 years, they are committed to being more than just a supplier.
tuesday, 27 october, 2020
Last Recommended Posting Dates & Festive Operational Hours
As we are approaching the Christmas period we would like to share with you our last recommended international posting dates and our operational hours for this year's Festive Season.
If you require any more information during this period, please contact your Client Relationship Executive who will be happy to assist you on +44 (0) 1727 890 620.
thursday, 30 april, 2020
Reading Together Campaign Update
Big thanks to all of those who have helped to get this project off the ground. We received over 2,000 donated publications and so far, we have donated to over 20 local Hospices, Hospitals and Care Homes, each box donated contained roughly 70 magazines/books.
We are planning to donate more in the following weeks and have already received some positive feedback:

"This is so lovely; our residents will be really happy. We will hand them out straight away."

"I have just spotted the box of goodies and took a quick peep. We are most grateful for the gift which will go to great use."

Thank you again to those who have donated or pledged to donate.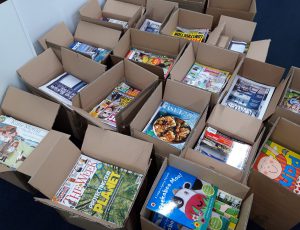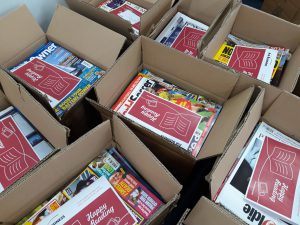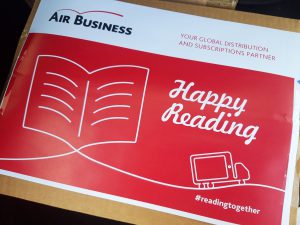 wednesday, 22 april, 2020
Air Business launches #readingtogether campaign with Clients
Air Business, a market-leading distribution and subscriptions management company, has teamed up with some of their customers in the Magazine and Book Publishing sectors to donate some of their publications to Hospices and Care Homes. The aim is to provide reading material for the elderly, sick children and disabled community in a bid to encourage the coming together, through words, as we stay apart during lockdown.
Following a message of thanks from a reader; "I have always looked forward to the postman delivering my magazine each week, but never more so than now. I live alone with just my cat for company and self-isolating every day does take its toll." Air Business recognised how important magazines and communications are for vulnerable people at this time.

The project has only just begun but is already set to deliver hundreds of books and magazines to many British Care Homes and Hospices. They will also be sending many books to several Children Hospices and Hospitals. Amongst the list to receive donations is Noah's Ark Children's Hospice, Air Businesses chosen charity, who they have supported for many years. The number of donations is set to grow as more and more Publishers and Distribution companies offer donations. Many of the major Publishers have offered their support.

Lenka Booker, Customer Experience Director, who is leading the project, said,
"We understand that lockdown is especially hard for people who are very isolated and vulnerable. We wanted to give something back and what better way to help our communities than by doing what we do the best, connecting publishers and readers, by putting books and magazines in their hands to enjoy. The generosity from our customers has been overwhelming, so many leading publishers and distributors have contacted us to get involved. It's so rewarding to be able to give something back to the community and we hope this is just the start."

friday, 17 april, 2020
Would you like to donate?
Following a message of thanks from a reader; "I have always looked forward to the postman delivering it each week, but never more so than now. I live alone with just my cat and little dog for company, but self-isolating every day does take its toll." We recognise how important magazines and communications are for vulnerable people at this time.
Therefore, we are running a Hospice Donation Project. The aim is to give back to our communities during this time and hopefully lift some spirits and put smiles on faces! If you would like to donate any magazines or books to this cause (we could use your overs or back issues), please contact kate.evans@airbusiness.com. A team of staff are volunteering to help in this project, meaning this will not affect our current BAU. Several local Hospices and Care Homes are already eagerly awaiting donations so please do get in touch if you would like to help.
wednesday, 1 april, 2020
A message from Air Business' Adam Sherman
I wanted, firstly, to send my best wishes to all readers and I hope you and your families are well.
Secondly, I wanted to take this opportunity to thank my staff, who have reacted better than I could ever have imagined, and my customers who have been patient, flexible and understanding. I am very lucky to have them both!
There are two sides to Air Business: the Distribution arm and the Subscriptions bureau.
Starting with Distribution, wow… it's been challenging! The operation remains in full flow, however we are following Government guidelines to the letter, practicing hand washing, social distancing and self-isolation where necessary. All staff that can work from home are doing so and they've been provided with laptops and phones to enable a relatively seamless transition. My IT department has been working flat out to roll out home working and I take my hat off to them for what they have achieved.

Each day, we are evaluating the latest news and restrictions around moving our customers' mail around the world and adjusting our routings where needed. A good example of this was air freight into the US for our periodical registered service. The premium became so large that we negotiated a sea freight option, which added a bit more time to the delivery, but meant we could achieve a consistent service with no increase in cost. It is getting more challenging though: this week, in line with Royal Mail's announcement, we have suspended services to a number of countries and are asking our customers to exclude these from their mailing data and also reduce their print runs where appropriate. We are updating our customers on a daily basis, ensuring they are fully aware of the latest market changes and how we are responding to these in order to minimise service disruptions. We have also set up a dedicated webpage, where our customers can find all the latest information in one place.

Our Subscriptions bureau have been nothing less than miraculous in terms of ensuring continuity of service. We had the foresight to purchase a large number of laptops to replace some of the end of life desktops and this has been invaluable in terms of enabling our Customer Service teams to work from home and deal professionally with subscribers from around the world. Quick thinking helped us transfer our Far East Manila call centre volumes, as they went into total lockdown, through to a newly created night shift in the UK with little disruption. Similarly, at our US call centre, most staff are now working from home and proving to be totally capable of responding as they would normally.

Inevitably, we are seeing an impact from this terrible situation in terms of cancelled or postponed mailings, reduced pagination due to less advertising, cancelled shows and conferences and so on. These are all totally understandable but none the less very sad for all concerned. I pray we get back to some sort of normality as quickly as possible.

Our shareholders An Post, The National Post Office of Ireland, have been extremely supportive to us despite their own challenges. They have always been big contributors to our business and I am pleased we have them at this time; it's very reassuring.

Finally, we are doing all we can to assist our staff in terms of wellbeing and supporting them through these difficult times. To reiterate, I am eternally grateful to them for their professionalism and commitment; it has been truly breath-taking and reaffirms to me what a great company I work for.

Kind regards

Adam
Adam Sherman
Chief Executive Officer
Air Business LTD
tuesday, 25 february, 2020
PPA selects Air Business as Strategic Partner for the 11th consecutive year
The Professional Publishers Association (PPA) has announced that Air Business, the UK's market-leader in global mail, fulfilment, distribution and subscription management has been selected to continue as PPA strategic partner for the 11th consecutive year.
The 11th year of the partnership will see Air Business as the sole sponsor of the PPA Chairman's Reception, taking place on February 26 as well as Strategic Partner of the PPA Festival and PPA Awards, which have undergone exciting changes in both content and format. They will also be supporting the 30 Under 30 Awards and PPA Independent Publisher Awards this Autumn/Winter.
Barry McIlheney, PPA CEO commented: "I am absolutely delighted to be entering our second decade as partners with Adam Sherman and his team at Air Business."

He added: "Over the past 10 years of our partnership, they have shown great support for our industry, and are always proactively investing in and supporting the growth of the entire publishing sector. As our members seek to grow their presence in new sectors, Air Business has ensured that they will always meet our evolving needs."

Air Business has invested hugely in the growth of the publishing sector by evolving their subscription service model and investing in new technologies, as well as investing in a new Head Office and main distribution centre in Hatfield to enable long-term support of their clients.

Adam Sherman, Air Business' Chief Executive Officer, said:

"A lot has changed in publishing since we first became Strategic Partner in 2010 and we are excited to be supporting publishers as they move into new markets and of course we are thrilled to be continuing our strong partnership with the Barry and his team at the PPA. Over the past year the Group cemented some very positive changes including the move of our Head Office and main distribution centre to 'The Beacon' in Hatfield and continuing to invest in and develop our subscriptions service model and systems. What has not changed is our passion and loyalty for the publishing industry, which stays at the heart of everything we do at Air Business."


friday, 20 december, 2019
Togetherness: 5 minutes with… Rob Barham
In today's challenging publishing environment, how can publishers work better together and with their supply chain partners, to ensure a profitable publishing future? We get the views of Rob Barham, Group Sales Director at Air Business.

Q: How should publishers best marshal their resources to secure a profitable future?

Publishers are best placed to focus their attention on the traditional tasks of creating content, selling content and selling advertising around that content, alongside the creation of e-commerce consumables such as gift and subscription boxes. They are beautifully positioned to understand the interests of their subscribers and market content to them.
Everything else – for example, the sourcing and buying of print, paper or distribution services – should be left to specialists, either internally hired or outsourced.
To help ensure the profitable continuation of print, publishers should review their eligibility for postal discounts, both domestic and international, and review the cost-benefit of reduced pagination.
tuesday, 10 december, 2019
Air Business welcomes Sophy Henn and The Dollywood Foundation
Special guest Author and Illustrator Sophy Henn visited Air Business, proudly watching her book Edie run through the wrapping lines.

Air Business has been working with the Dollywood Foundation for nine years and is proud to distribute all their children's books throughout the UK and Ireland. More than 40,000 children living in the UK and Ireland received the gift of a book every month through the Foundation this year.
On 16th October, Air Business welcomed The Dollywood Foundation's UK Executive Director, Marion Gillooly and Regional Director, Helen Hastle with their special guest Sophy Henn, Author and Illustrator. Sophy, whose books are being sent out to children enrolled into the programme in the UK, Ireland, US and Canada, excitedly watched her children's book Edie run through the wrapping machine. During Sophy's visit she also read a few of her wonderful books to local Nursery children and she very kindly signed a book for each child to take home.

Sophy Henn, Author and Illustrator, comments on her visit and the Dollywood Foundation:
"The visit to Air Business was a delight from start to finish. The lovely people. Watching the incredible machines as they labelled, wrapped and packed my book, Edie. Then story time with the brilliant children from the local nursery was the icing on the cake!
Dolly and her team work with local communities to get books into the hands of children, some of whom might not otherwise have them. It's just such a positive scheme to be part of."

Adam Sherman, Managing Director at Air Business adds…
"It was a pleasure to welcome Sophy, Marion and Helen at The Beacon for such a positive event. We enjoyed showing them around our distribution centre. Air Business is so proud to be in partnership with such a worthwhile foundation."

  
monday, 9 december, 2019
Air Business Festive Operational Hours
As we are approaching the Christmas period we would like to share with you our operational hours for this year's Festive Season.
If you require any more information during this period, please contact your Client Relationship Executive who will be happy to assist you on +44 (0) 1727 890 620.